Overview
The Achilles tendon is the largest and strongest tendon in the human body. It is the ?cord? in the back of the leg that inserts into the back of the heel. The Achilles tendon got its name, according to Greek legend, when the Greek warrior, Achilles, was dipped into the River Styx by Thetis, his mother. This rendered him invincible with the exception of his unsubmerged heel. Unfortunately, he went on to get mortally wounded during the siege of Troy when he was struck in that heel by an arrow. Achilles tendinitis is inflammation and partial tearing of the Achilles tendon. It can occur with overuse of the tendon such as when starting or increasing the intensity of an exercise program or performing impact loading activities that include a lot of running and/or jumping.
Causes
Achilles tendinitis may be caused by intensive hill running, sprinting, or stair climbing. Overuse resulting from the natural lack of flexibility in the calf muscles. Rapidly increasing intensity of exercise, especially after a period of inactivity. Sudden and hard contraction of the calf muscles when exerting extra effort, like that in a final sprint or high jump.
Symptoms
The pain associated with Achilles tendinitis typically begins as a mild ache in the back of the leg or above the heel after running or other sports activity. Episodes of more severe pain may occur after prolonged running, stair climbing or sprinting. You might also experience tenderness or stiffness, especially in the morning, which usually improves with mild activity. If you experience persistent pain around the Achilles tendon, call your doctor. Seek immediate medical attention if the pain or disability is severe. You may have a torn (ruptured) Achilles tendon.
Diagnosis
During the physical exam, your doctor will gently press on the affected area to determine the location of pain, tenderness or swelling. He or she will also evaluate the flexibility, alignment, range of motion and reflexes of your foot and ankle. Your doctor may order one or more of the following tests to assess your condition, X-rays. While X-rays can't visualize soft tissues such as tendons, they may help rule out other conditions that can cause similar symptoms. Ultrasound. This device uses sound waves to visualize soft tissues like tendons. Ultrasound can also produce real-time images of the Achilles tendon in motion. Magnetic resonance imaging (MRI). Using radio waves and a very strong magnet, MRI machines can produce very detailed images of the Achilles tendon.
Nonsurgical Treatment
Supportive shoes and orthotics. Pain from insertional Achilles tendinitis is often helped by certain shoes, as well as orthotic devices. For example, shoes that are softer at the back of the heel can reduce irritation of the tendon. In addition, heel lifts can take some strain off the tendon. Heel lifts are also very helpful for patients with insertional tendinitis because they can move the heel away from the back of the shoe, where rubbing can occur. They also take some strain off the tendon. Like a heel lift, a silicone Achilles sleeve can reduce irritation from the back of a shoe. If your pain is severe, your doctor may recommend a walking boot for a short time. This gives the tendon a chance to rest before any therapy is begun. Extended use of a boot is discouraged, though, because it can weaken your calf muscle. Extracorporeal shockwave therapy (ESWT). During this procedure, high-energy shockwave impulses stimulate the healing process in damaged tendon tissue. ESWT has not shown consistent results and, therefore, is not commonly performed. ESWT is noninvasive-it does not require a surgical incision. Because of the minimal risk involved, ESWT is sometimes tried before surgery is considered.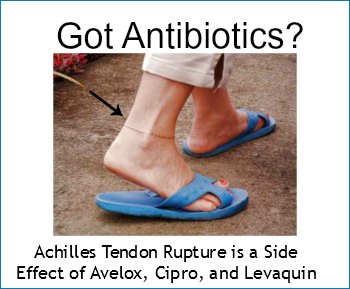 Surgical Treatment
If several months of more-conservative treatments don't work or if the tendon has torn, your doctor may suggest surgery to repair your Achilles tendon.
Prevention
So what are some of the things you can do to help prevent Achilles Tendinitis? Warm Up properly: A good warm up is essential in getting the body ready for any activity. A well structured warm up will prepare your heart, lungs, muscles, joints and your mind for strenuous activity. Balancing Exercises, Any activity that challenges your ability to balance, and keep your balance, will help what's called proprioception, your body's ability to know where its limbs are at any given time. Plyometric Training, Plyometric drills include jumping, skipping, bounding, and hopping type activities. These explosive types of exercises help to condition and prepare the muscles, tendons and ligaments in the lower leg and ankle joint. Footwear, Be aware of the importance of good footwear. A good pair of shoes will help to keep your ankles stable, provide adequate cushioning, and support your foot and lower leg during the running or walking motion. Cool Down properly, Just as important as warming up, a proper cool down will not only help speed recovery, but gives your body time to make the transition from exercise to rest. Rest, as most cases of Achilles tendinitis are caused by overuse, rest is probably the single biggest factor in preventing Achilles injury. Avoid over training, get plenty of rest; and prevent Achilles tendinitis.